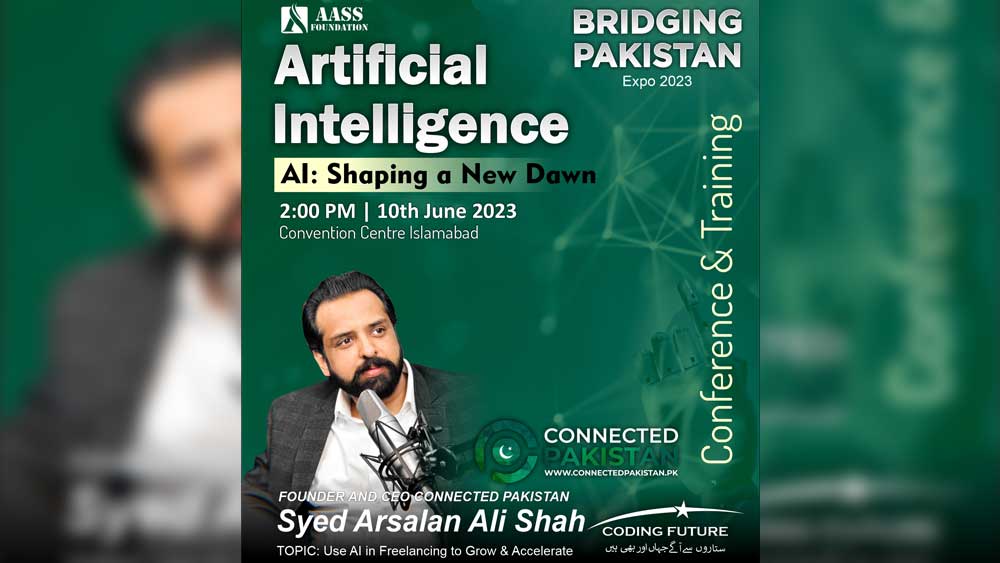 Syed Arsalan Ali Shah to Speak at Bridging Pakistan Conference: Leveraging AI in Freelancing to Accelerate and Grow
We are excited to announce that Syed Arsalan Ali Shah, the esteemed Founder & CEO of Connected Pakistan, will be a featured speaker at the upcoming Bridging Pakistan Conference organized by Coding Future. The conference is set to take place on 10th June at Jinnah Convention Center in Islamabad. Syed Arsalan Ali Shah's talk will revolve around the topic of "Using AI in Freelancing to Accelerate and Grow," shedding light on the powerful combination of artificial intelligence and freelancing in Pakistan.
Harnessing AI in Freelancing:
As a leading figure in the tech industry and an advocate for innovation, Syed Arsalan Ali Shah recognizes the transformative potential of artificial intelligence in the freelancing landscape. In his talk, he will explore how freelancers can leverage AI tools, platforms, and strategies to enhance their productivity, efficiency, and overall growth. Syed Arsalan Ali Shah will discuss the latest advancements in AI and provide practical insights on how freelancers can integrate AI into their workflows.
Accelerating Freelancing Success:
Freelancing has become a popular career choice, offering individuals the flexibility to work on their terms. However, staying competitive in the fast-paced digital world requires continuous adaptation and the adoption of cutting-edge technologies. Syed Arsalan Ali Shah will share valuable strategies and techniques for utilizing AI to accelerate freelancing success. From automating repetitive tasks to leveraging AI-powered algorithms for personalized recommendations and data analysis, attendees will gain a deeper understanding of how AI can elevate their freelancing careers.
Growing Opportunities in the Freelancing Industry:
Pakistan's freelancing industry has witnessed remarkable growth in recent years, providing countless opportunities for skilled individuals to showcase their expertise and earn a sustainable income. Syed Arsalan Ali Shah will shed light on the evolving landscape of the freelancing industry in Pakistan and discuss how AI can fuel further growth and innovation. Attendees will gain insights into emerging trends, niche markets, and strategies for positioning themselves as in-demand freelancers in the digital marketplace.
Networking and Collaboration:
In addition to Syed Arsalan Ali Shah's keynote address, the Bridging Pakistan Conference offers a unique networking platform for freelancers, industry professionals, and aspiring entrepreneurs. Attendees will have the opportunity to connect with like-minded individuals, build valuable relationships, and explore potential collaborations. Networking is a crucial element in the freelancing ecosystem, as it opens doors to new opportunities, partnerships, and knowledge-sharing.
Syed Arsalan Ali Shah's participation as a speaker at the Bridging Pakistan Conference underscores his commitment to driving the growth and innovation of freelancing in Pakistan. His talk on "Using AI in Freelancing to Accelerate and Grow" will provide attendees with actionable insights and strategies to harness the power of AI in their freelancing careers. By embracing AI tools and techniques, freelancers can gain a competitive edge, increase their productivity, and unlock new avenues for success in the evolving digital landscape.