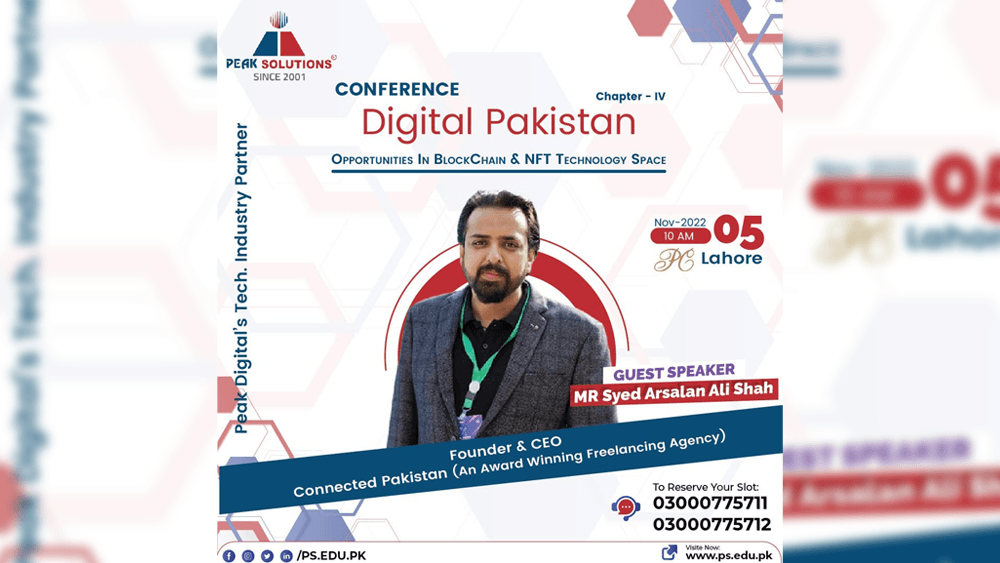 Syed Arsalan Ali Shah, Founder & CEO of Connected Pakistan, to Speak as Guest Speaker at Digital Pakistan Conference 22, Powered by Peak Solution
Connected Pakistan, a leading tech social enterprise, is thrilled to announce that its Founder & CEO, Syed Arsalan Ali Shah, will be speaking as a guest speaker at the highly anticipated Digital Pakistan Conference 22. Powered by Peak Solution, the conference aims to bring together industry experts, thought leaders, and technology enthusiasts to explore the digital transformation landscape in Pakistan. With Syed Arsalan Ali Shah's extensive knowledge and experience in the field, his keynote address promises to be a highlight of the event.
Unlocking the Digital Potential:
The Digital Pakistan Conference 22 serves as a platform to unlock the immense potential of digital technologies in Pakistan. As the country ventures into the era of digital transformation, it becomes crucial to understand the opportunities, challenges, and best practices in harnessing the power of technology for national development. Syed Arsalan Ali Shah's participation as a guest speaker further enhances the event's value and offers attendees unique insights into the digital landscape.
Sharing Insights and Expertise:
Syed Arsalan Ali Shah, renowned for his contributions to the tech industry, will share his valuable insights and expertise during his keynote address at the Digital Pakistan Conference 22. Drawing from his vast experience in leading Connected Pakistan, a trailblazing organization committed to empowering Pakistan through technology, innovation, and entrepreneurship, he will shed light on the transformative potential of digital solutions. Attendees can expect to gain practical knowledge, strategic perspectives, and actionable ideas to navigate the digital landscape effectively.
Exploring Digital Transformation:
The conference will cover a range of topics related to digital transformation, including e-commerce, fintech, digital marketing, artificial intelligence, and more. Syed Arsalan Ali Shah's talk will focus on the integration of technology and innovation to drive digital growth and sustainability. Attendees will gain insights into the latest trends, best practices, and success stories in the realm of digital transformation, empowering them to leverage technology for their organizations' growth.
Collaboration and Networking:
The Digital Pakistan Conference 22 offers an excellent opportunity for networking and collaboration among industry professionals, entrepreneurs, and digital enthusiasts. Attendees can connect with like-minded individuals, exchange ideas, and explore potential partnerships that can accelerate their digital journeys. The conference serves as a hub for fostering collaboration and creating a supportive ecosystem for digital innovation and growth.
As the Digital Pakistan Conference 22 approaches, excitement is building within the tech community. Syed Arsalan Ali Shah's presence as a guest speaker elevates the event, ensuring a wealth of knowledge, inspiration, and networking opportunities for attendees. This conference is a must-attend for anyone passionate about digital transformation, seeking to stay ahead in the ever-evolving tech landscape, and aiming to leverage technology to drive growth and innovation in Pakistan. Don't miss out on the chance to hear from industry leaders and gain valuable insights into the digital future of Pakistan.