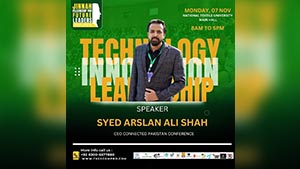 Syed Arsalan Ali Shah, Founder & CEO of Connected Pakistan, Inspires Students on Technology, Information, and Leadership at National Textile University Faisalabad
Connected Pakistan is delighted to announce that its esteemed Founder & CEO, Syed Arsalan Ali Shah, was invited to deliver a captivating speech on Technology, Information, and Leadership at the renowned National Textile University in Faisalabad. This prestigious event provided an incredible platform for Syed Arsalan Ali Shah to share his expertise and insights with the university's bright minds, inspiring them to embrace the power of technology, stay updated with information, and become effective leaders in the digital era.
Harnessing the Power of Technology:
In today's fast-paced world, technology has become a driving force behind innovation, growth, and transformation. Syed Arsalan Ali Shah's speech at National Textile University emphasized the significance of harnessing the power of technology to drive positive change in various industries. He shed light on the latest technological advancements, trends, and their potential to revolutionize the textile sector and beyond. By highlighting real-world examples and success stories, he encouraged students to embrace technology as a catalyst for progress and explore its immense possibilities.
The Importance of Information:
In an era of information overload, Syed Arsalan Ali Shah stressed the importance of effectively managing and utilizing information. He highlighted the value of staying updated with the latest industry trends, research, and insights to make informed decisions and stay ahead of the competition. Syed Arsalan Ali Shah shared strategies and resources that students can leverage to enhance their knowledge base and become well-informed professionals in their respective fields.
Leadership in the Digital Era:
Leadership skills are crucial for success in any domain, and the digital era demands a unique set of leadership qualities. Syed Arsalan Ali Shah's speech focused on cultivating leadership traits that are essential for navigating the rapidly evolving technological landscape. He discussed the importance of adaptability, innovation, and collaboration in driving organizational growth and leading teams effectively. Syed Arsalan Ali Shah's insights inspired students to develop their leadership potential and become catalysts for change in the digital age.
Connected Pakistan's Commitment to Empowering the Future:
Connected Pakistan's collaboration with National Textile University reflects its unwavering commitment to empowering the next generation of leaders and professionals. As a leading tech social enterprise, Connected Pakistan strives to bridge the gap between technology and society, equipping individuals with the skills and knowledge necessary to thrive in the digital world. Syed Arsalan Ali Shah's presence at National Textile University exemplifies Connected Pakistan's dedication to nurturing talent, fostering innovation, and shaping a future-ready workforce.
Syed Arsalan Ali Shah's speech on Technology, Information, and Leadership at National Textile University served as a source of inspiration for students, faculty, and industry professionals alike. His insights on harnessing technology, leveraging information, and cultivating leadership skills in the digital era resonated with the audience, igniting their passion for innovation and growth. Connected Pakistan's collaboration with the university underscores its commitment to empower the future generation, bridging the gap between academia and industry. Together, let's embrace the transformative power of technology, stay informed, and develop the leadership qualities needed to thrive in an ever-changing world.