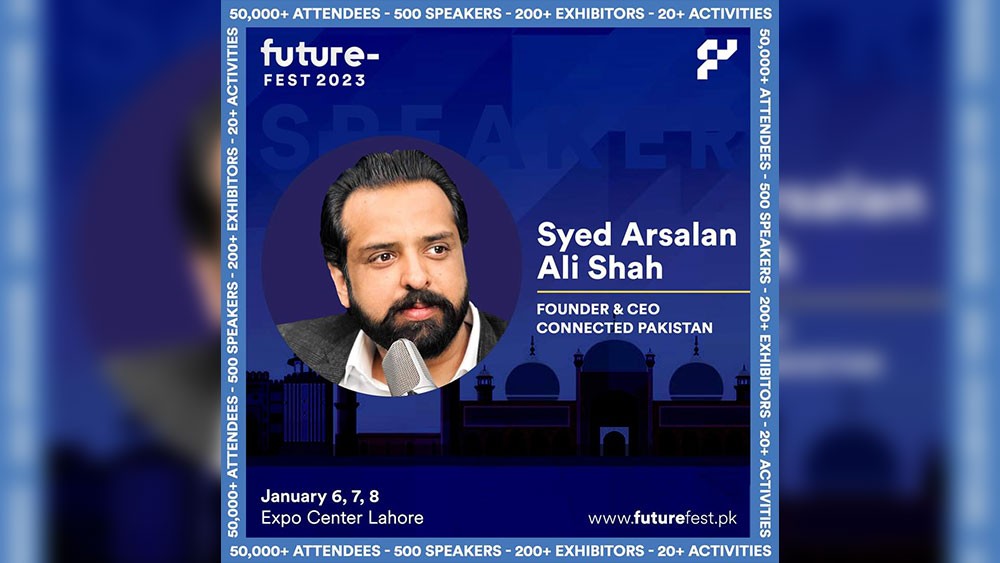 Syed Arsalan Ali Shah, Founder & CEO Connected Pakistan : Inspiring Change at FuturFest23
We are thrilled to announce that Syed Arsalan Ali Shah, the esteemed Founder & CEO of Connected Pakistan, will be one of the distinguished speakers at this year's highly anticipated FuturFest23. With his expertise in the field of technology and his passion for driving positive change, Syed Arsalan Ali Shah is set to deliver an enlightening and impactful talk at this renowned event.
Syed Arsalan Ali Shah is a Dynamic Tech Entrepreneur, Founder & CEO of Connected Pakistan, a leading tech social enterprise that is on a mission to empower Pakistan's future through technology, innovation, capacity building, entrepreneurship, and leadership. He is a passionate advocate of using technology as a tool for positive change and is dedicated to creating a brighter future for Pakistan.
Syed Arsalan Ali Shah's innovative approach to social entrepreneurship has won him numerous accolades and awards. He is the only Pakistani who has been featured as a success story on Payoneer.com, a global payment platform. He has also received recognition for his work from various esteemed institutions, including HBL PSL Hamaray Heroes, Excellence Awards from the President of Pakistan, the Prime Minister of Pakistan, the Federal IT Minister, the Provincial IT Minister, the Governor of Sindh, the Khyber Pakhtunkhwa Information Technology Board, the Pakistan Software Export Board, and the Ministry of IT & Telecom.
Syed Arsalan Ali Shah is the visionary behind Connected Pakistan Conference, which has become one of Pakistan's largest tech conferences since its inception in 2015. He has also launched several other initiatives, including Connected Women Conference, Growth Summit, E-Mustakbil, SheCan, ConnectedBytes, Connected Magazine, Connected Cricket League, Connected Pakistan Women Leaders, Connected Pakistan 30 Under 30 and Connected Today, all aimed at empowering Pakistan with technology.
Syed Arsalan Ali Shah's entrepreneurial spirit, combined with his deep commitment to social impact, has made him a role model for many aspiring entrepreneurs in Pakistan and beyond. He believes that with the right mindset, tools, and resources, anyone can achieve their dreams and make a positive impact on the world.
Don't miss the opportunity to hear Syed Arsalan Ali Shah. His talk promises to be a captivating and thought-provoking session that will leave you inspired and motivated to embrace the future of technology with a purpose. Be part of this incredible event and join the movement towards a more connected and innovative world.