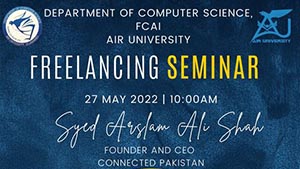 Syed Arsalan Ali Shah Empowers Future Entrepreneurs with Talk on 'Freelancing Leading to Entrepreneurship' at Air University Islamabad
Connected Pakistan, the leading tech social enterprise, is excited to announce that its esteemed Founder & CEO, Syed Arsalan Ali Shah, will be delivering a highly anticipated talk at Air University Islamabad. The session, titled "Freelancing Leading to Entrepreneurship," aims to inspire and guide aspiring freelancers to unlock their potential and transition into successful entrepreneurs. Syed Arsalan Ali Shah's expertise and experience in the field make this an event not to be missed for anyone interested in the dynamic world of freelancing and entrepreneurship.
Exploring the Path from Freelancing to Entrepreneurship:
Syed Arsalan Ali Shah's talk will delve into the transformative journey from being a freelancer to becoming a thriving entrepreneur. Drawing from his own experiences, he will share insights on how freelancers can leverage their skills, build networks, and identify opportunities to create their own businesses. Syed Arsalan Ali Shah will shed light on the challenges and rewards of entrepreneurship and provide practical tips and strategies to navigate this transition successfully.
Unleashing the Entrepreneurial Spirit:
The session aims to ignite the entrepreneurial spirit within the audience and encourage them to take the leap from freelancing to entrepreneurship. Syed Arsalan Ali Shah will highlight the importance of mindset, innovation, and adaptability in the ever-evolving business landscape. Through real-life examples and success stories, he will inspire attendees to harness their talents, think beyond traditional boundaries, and explore entrepreneurial avenues for growth and success.
Building a Supportive Ecosystem:
Syed Arsalan Ali Shah recognizes the significance of a supportive ecosystem in fostering entrepreneurial endeavors. He will emphasize the role of communities, mentorship, and collaboration in propelling aspiring entrepreneurs towards their goals. By sharing his own journey and the resources available through Connected Pakistan, he aims to empower individuals to navigate the entrepreneurial landscape with confidence and leverage the support networks available to them.
Air University as a Platform for Growth:
The talk at Air University Islamabad provides an ideal platform for Syed Arsalan Ali Shah to connect with young minds eager to embark on their entrepreneurial journey. Air University's vibrant and innovative environment serves as a breeding ground for aspiring entrepreneurs, making it the perfect backdrop for Syed Arsalan Ali Shah's valuable insights and guidance. Attendees will have the opportunity to engage with an industry leader and gain practical knowledge to accelerate their entrepreneurial ambitions.
Syed Arsalan Ali Shah's upcoming talk at Air University Islamabad on "Freelancing Leading to Entrepreneurship" promises to be an enriching and empowering event. Through his vast experience and deep understanding of the freelancing and entrepreneurial landscape, he will equip aspiring entrepreneurs with the knowledge and inspiration needed to navigate this transformative journey. Connected Pakistan's commitment to nurturing talent and fostering entrepreneurship ensures that this talk will be a valuable resource for individuals seeking to unleash their entrepreneurial potential. Don't miss this opportunity to learn from a visionary leader and gain insights that can shape your own entrepreneurial path.