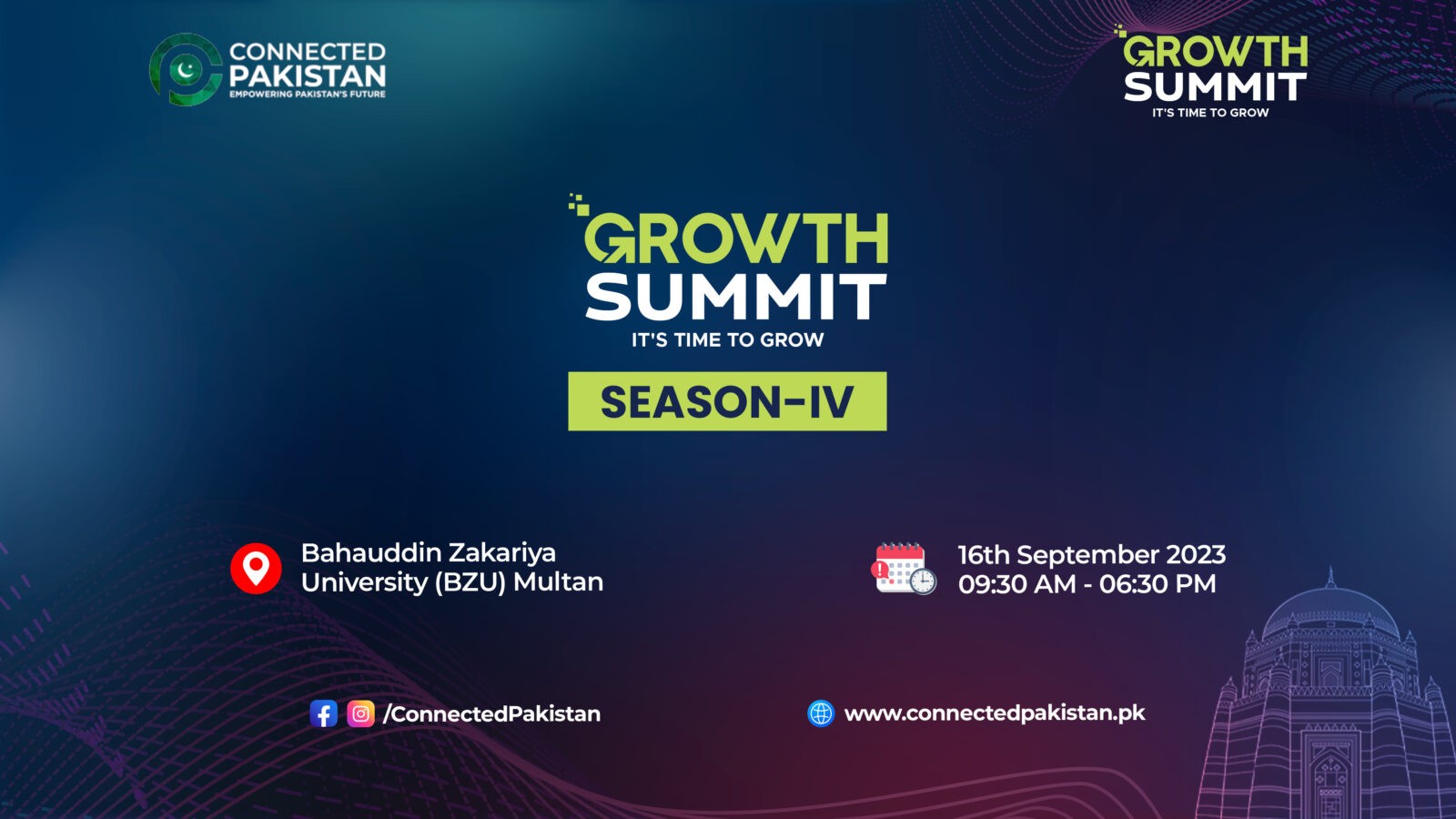 Growth Summit'23 Season IV Program Schedule – Connected Pakistan
Get ready for an enlightening journey at Growth Summit'23 Season IV, presented by Connected Pakistan. This year's program is thoughtfully curated to empower you with the latest insights and trends in technology, innovation, entrepreneurship, and leadership. From riveting keynote sessions featuring industry trailblazers to interactive workshops that hone your skills, Growth Summit'23 promises an immersive experience like no other.
Join us for a dynamic lineup of events, including expert panels, startup showcases, and networking opportunities that will connect you with visionaries and innovators. Whether you're an aspiring entrepreneur, a seasoned business leader, or simply seeking inspiration, Growth Summit'23 Season IV has something for everyone. Stay tuned for our detailed schedule and secure your spot at the forefront of growth and innovation.
https://bit.ly/growthsummitmultan
Hourly Schedule
Growth Summit'23 Season IV
10:00

-

10:10

Opening by Zeeshan Khan & Mahwish Rizvi

Opening by Zeeshan Khan & Mahwish Rizvi
10:10

-

10:15

Talawat-e-Quran e Paak

Talawat-e-Quran e Paak
10:15

-

10:20

National Anthem of Pakistan

National Anthem of Pakistan
10:20

-

10:30

Ali Khan Swati CEO Red Tale Studio

Topic: Ecommerce & Branding
10:30

-

10:45

Audience Session (Q&A) Q&A Session with Ali Khan Swati Moderated by Syed Arsalan

Ecommerce, Local Ecommerce, Branding, Startup in Pakistan, Ecommerce Scaling & Growth
10:45

-

10:50

Zeeshan & Mahwish

Activity Time
10:50

-

11:00

Naveed Ahmed CEO Graphio

Topic : Unlock Global Opportunities to Achieve Financial Growth
11:00

-

11:15

Audience Session (Q&A) Q&A Session with Naveed Ahmed Moderated by Syed Arsalan

Branding & Design, Fiverr Algorithams , Fiverr Ranking Factors , Design as Career, AI V/S Design
11:15

-

11:20

Zeeshan & Mahwish

Activity Time
11:20

-

11:30

Jaree Mehdi CEO JM Solutions

Topic : Facebook Monetization in Pakistan
11:30

-

1:45

Audience Session (Q&A) Q&A Session with Jaree Mehdi - Moderated by Syed Arsalan

Facebook Monetization, Content Creation, Facebook Bonus, Facebook Payouts etc
11:45

-

11:50

Zeeshan & Mahwish

Activity Time
11:50

-

12:00

Shahid Hussain Joia CEO Business Talks

Topic : Small Businesses & Micro Industries
12:00

-

12:15

Audience Session (Q&A) Q&A Session with Shahid Hussain Joia Moderated by Asbar Ali

Small Businesses, Micro Industries
12:15

-

12:25

Zeeshan & Mahwish

Activity Time
12:25

-

12:35

Muhammad Ismail CEO Learnonline.pk

Topic : Affiliate Marketing and AI: Flipping Your Online Assets for 30X More Profit
12:35

-

12:50

Audience Session (Q&A) Q&A Session with Muhammad Ismail Moderated by Syed Arsalan

Affiliate Blogging, Keyword Research, Content Creation, TikTok, RankNow
12:50

-

01:00

Asbar Ali CEO Nova Technologies

Topic :Optimization of Individual to Agency Growth: Lifecycle Strategies for Success
01:00

-

01:15

Audience Session (Q&A) Q&A Session with Asbar Ali Moderated by Syed Arsalan

Adsense Blogging, Keyword Research, Content Creation, Digital Marketing
01:15

-

01:25

Zeeshan & Mahwish

Activity Time
01:25

-

01:35

Syeda Itrat Fatima - CEO Creators Lounge

Topic : Importance of Niche & Skill
01:35

-

01:45

Farrukh Mushtaq CEO Novelty.pk

Topic :
01:45

-

01:55

Novelty Ecommerce Store Launching Ceremony

Cake Cutting Ceremony
01:55

-

02:00

Zeeshan & Mahwish

Activity Time
02:00

-

02:10

Atta Aza - Managing Partner City Mail

Topic : Potential of Cross border E-commerce
02:10

-

02:20

Mahnoor - Marketing Strategist at Digital Marketing Garage

Topic : Marketing & Branding
02:20

-

02:30

Batool Shamim, Managing Director BixiSoft

Topic : Importance of Social Media for SME
02:30

-

02:50

Q&A Session Sheraz Javed & Talha Bhutta Moderated by Asbar Ali

Ecommerce, Agency, Passive Income
02:50

-

03:00

Zeeshan & Mahwish

Activity Time
03:00

-

03:15

Dr. Affan Qaiser Social Media Influencer & Content Creator

Topic : Content Creation & it's impact
03:15

-

03:25

Shahzad Khan CEO The Laptop Living

Topic : Building a personal brand that attracts high-end clients like clockwork
03:25

-

03:40

Audience Session (Q&A) Q&A Session with Shahzad Khan Moderated by Syed Arsalan

Copywriting, Direct Response Method, ChatGPT, Personal Branding
03:40

-

03:50

Tanveer Nandla CEO Iskills

Topic : AI & Blogging
03:50

-

04:05

Audience Session (Q&A) Q&A Session with Tanveer Nandla Moderated by Syed Arsalan

Blogging, Digital Marketing, SEO, AI