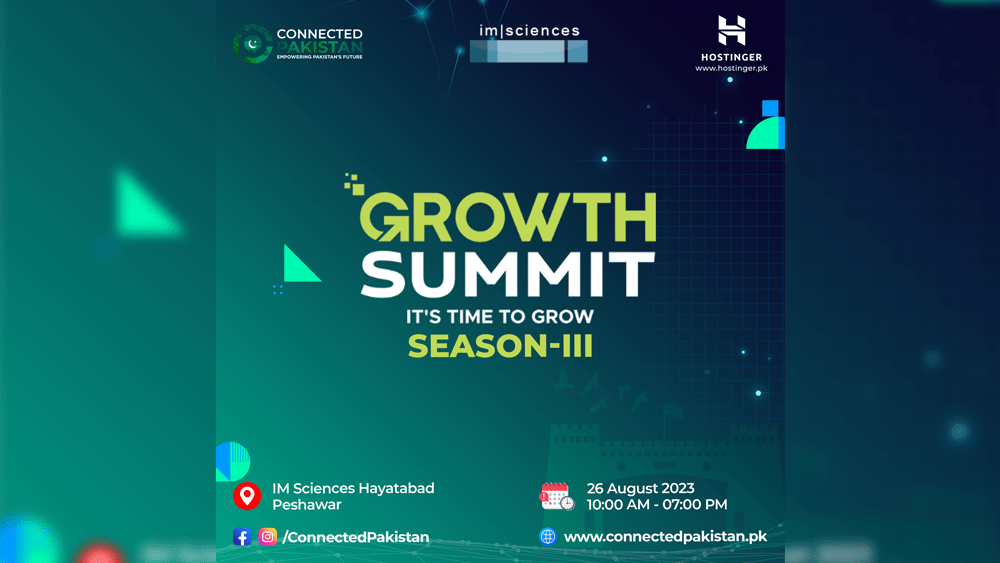 Growth Summit'23 Season III Agenda
Join us for the highly anticipated Growth Summit'23 Season III, powered by our partner Hostinger (www.hostinger.pk), and in collaboration with IM Sciences. Scheduled to take place on the 26th of August at IM Sciences Peshawar, this summit promises an immersive experience designed to equip attendees with the latest insights on growth, scaling, and acceleration in the ever-evolving tech landscape.
The event's detailed agenda covers an array of captivating topics presented by industry experts, ensuring that participants gain valuable knowledge and networking opportunities. It's imperative to arrive on time, preferably before 10 AM, as gates will close punctually to ensure a seamless and enriching experience for all attendees.
Don't miss out on this unique chance to connect, learn, and fuel your tech journey.
* Please note that the agenda outlined below is fixed and cannot be altered. We kindly request all speakers & participants to strictly adhere to the provided schedule to ensure a smooth and efficient event flow. Being punctual is crucial to avoid any inconvenience or disruption to the proceedings. We appreciate your cooperation and look forward to a successful and productive event. Thank you.
Hourly Schedule
Growth Summit'23 Season III
09:00

-

10:00

Registration

Registration
10:00

-

10:10

Opening by Zeeshan Khan & Mahwish Rizvi

Master of Ceremony
10:10

-

10:15

Talawat-e-Quran

Talawat-e-Quran
10:15

-

10:20

National Anthem

National Anthem
10:20

-

10:25

Welcome Note

Director IM Sciences
10:25

-

10:35

Fawad Kamal

CTO Bolt Marketing ,Topic: AR and VR in UX: Immersive Experiences and Challenges
10:35

-

10:45

Muhammad Khizer Javed

Penetration Tester / Ethical Hacker, Topic : Cybersecurity Fundamentals for Business Owners and Entrepreneurs
10:45

-

10:55

Zia Kamal

CEO Bring Upp & TIPsoont, Topic : Navigating Global Markets: Strategies for International Expansion
10:55

-

11:05

Nouman Ali Awan

CEO ESTP & Being Optimizers, Topic : Unlock Global Opportunities to Achieve Financial Growth
11:05

-

11:15

Awais Aslam

CEO AppleMan ®️, Topic : How to Start a Business in UAE: Navigating Business Growth in a Post-Pandemic World: Insights and Strategies
11:15

-

11:25

Asif Taj

Flutter Developer Techease Solution Pvt Limited, Topic : How to Architect Your Flutter App as a Beginner: Choosing the Right Pattern for Robust and Scalable Apps
11:25

-

11:35

Syed Qusain

Founder & CEO BBC T/A Digital Next , Topic : Accelerating Growth with Digital Marketing
11:35

-

11:45

Huzaifa Jan

CEO/Founder Reeest, Topic : The Art of Scaling: Strategies for Managing Rapid Growth
11:45

-

11:55

Owais Nawaz

Ecom Expert, Topic : How to Start E-Commerce with Zero Investment
11:55

-

12:05

Faisal Abbas

CEO CentennialSol, Prompt Engineering and Training Chatbots for Getting Best Output
12:05

-

12:15

Usman Khawar Khan

Founder & CEO AdX, Topic : Growing Your E-commerce Business: Scaling with Minimum Budget and Low Risk
12:15

-

12:25

Tayyab Saqlain Zakki

Founder ClickOn, Topic : Building an SEO Agency
12:25

-

12:35

Saf Khan Khattak

CEO SafYouTube, Topic : AI for Content Growth
12:35

-

12:45

Shanawar Aslam

MD Iskills, Topic : Acceleration in SEO
12:45

-

12:55

Nosheen Shafiq

CEO & Founder of Noshy.pk, Topic : Automating Operations: Streamlining Ecommerce Processes with AI Tools
01:00

-

02:00

Break

Namaz & Lunch
02:00

-

02:15

Namra Nasyr

Consultant and Trainer 5.0 Labs , Topic : AI-Based Creative Strategy
02:15

-

02:30

Huzaifa Ali

Founder & CEO Ecommerce Success Pakistan, Topic : Building a Successful eCommerce Business: Key Strategies and Best Practices for Growth
02:30

-

02:45

Aitazaz Khan

Founder & CEO TechKor, Topic : Scale & Growth in Tech
02:45

-

03:00

Muhammad Ismail

CEO Learnonline, Topic : Affiliate Marketing and AI: Flipping Your Online Assets for 30X More Profit
03:00

-

03:15

Obaid Arshad

CEO Ginkgo Retail , Topic : AI-Powered Ecommerce: Enhancing Customer Experience and Personalization
03:15

-

03:30

Yasir Sharar

CEO Handmafia, Topic : Empower Pakistan with Made in Pakistan
03:30

-

03:45

Farman Khan

CEO & Co-Founder MicroSERP Technologies, Topic : Innovation in Tech Entrepreneurship
03:45

-

04:00

Muhammad Yasin

Assistant Director KPITB, Topic : Accelerating Growth with Digital Marketing
04:00

-

04:15

Salman Baig

Head of SEO AliBaba Group, Topic : Technical SEO
04:15

-

04:30

Asbar Ali

CEO Nova Technologies, Topic :Optimization of Individual to Agency Growth: Lifecycle Strategies for Success
04:30

-

04:45

Tanveer Nandla

CEO Iskills, Topic : AI & Blogging
04:45

-

05:00

Jaree Mehdi

CEO JM Solutions, Topic : Facebook Monetization in Pakistan
05:00

-

05:15

Irfan Malik

CEO Xeven Solutions & Xeven AI, Topic : Artificial Intelligence & Data Science for Youth
05:15

-

05:30

Souvenir Distribution

Speakers Souvenir Distribution
05:30

-

06:30

Music

Music Performances