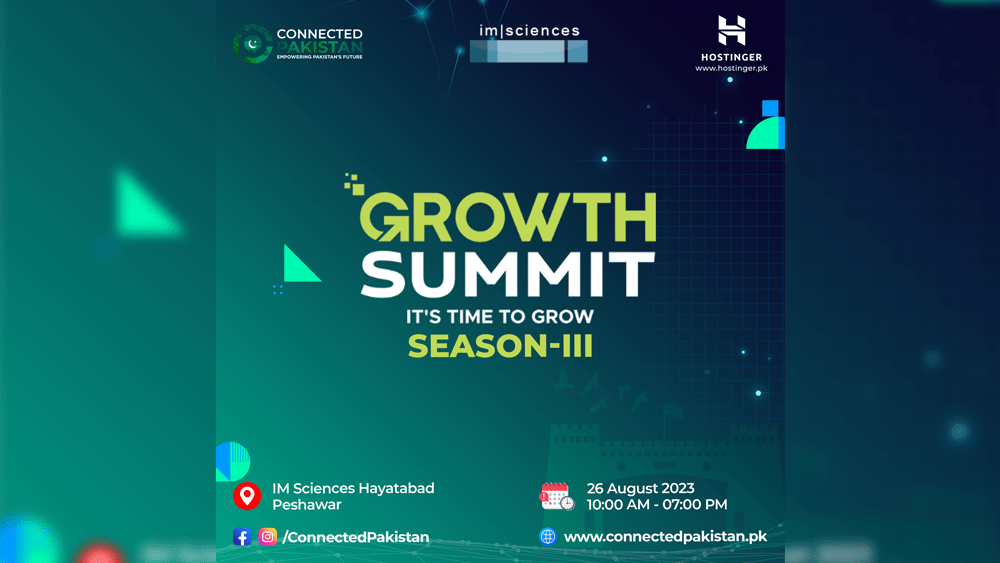 Connected Pakistan Announces Growth Summit'23 Season III in Peshawar
Brace yourselves for an announcement that's about to shake up the tech landscape! 🚀 We are thrilled to reveal the much-anticipated event of the year – Growth Summit'23 Season III. This dynamic gathering is set to take place in the vibrant city of Peshawar on the 26th of August. And here's the exciting twist: this extraordinary occasion is a collaborative effort with IM Sciences Peshawar, creating a platform that promises a day filled with inspiration, innovation, and unparalleled opportunities.
But that's not all! We're absolutely ecstatic to announce our esteemed Supporting Partner for this remarkable journey – the renowned Hostinger. With their unwavering commitment to empowering the tech industry, this partnership is a digital match made in heaven.
And there's more in store! Brace yourselves for the grand unveiling of "Hostinger.pk" right at the heart of the summit. This landmark moment is not to be missed!
Growth Summit'23 Season III promises to be an empowering event that will focus on acceleration, growth, scaling, and expansion in the tech sector. As Pakistan's largest and most prominent tech event, the summit will bring together entrepreneurs, startups, CEOs, founders, freelancers, and tech enthusiasts from across the country.
"We are excited to host Growth Summit'23 Season III in Peshawar, a city known for its vibrant tech community and entrepreneurial spirit," said Syed Arsalan Ali Shah, Founder of Connected Pakistan. "This summit will be a unique platform for attendees to gain valuable insights, network with industry experts, and explore growth opportunities in the ever-evolving tech landscape."
The event will feature a diverse lineup of distinguished speakers from various industries who will share their expertise, experiences, and success stories. Attendees will have the opportunity to attend keynote talks, Q&A sessions, networking, and engage in interactive discussions.
We believe that Growth Summit'23 Season III will act as a catalyst for driving innovation, fostering collaborations, and nurturing the next generation of tech leaders
Connected Pakistan urges tech enthusiasts, entrepreneurs, and all those passionate about technology to mark their calendars for 26th August 2023 and join this one-of-a-kind event at IM Sciences in Peshawar.
For more information and registration, please visit : https://bit.ly/growthsummit23
About Connected Pakistan:
Connected Pakistan is a pioneering tech social enterprise on a mission to empower Pakistan's future through technology, innovation, entrepreneurship, capacity building, and leadership. Since its inception, Connected Pakistan has been at the forefront of shaping the tech industry's narrative, providing opportunities for knowledge-sharing, collaboration, and recognition of exceptional individuals within the tech community.
Checkout Growth Summit'23 Season III Speakers : https://connectedpakistan.pk/growth-summit23-season-iii-speakers/