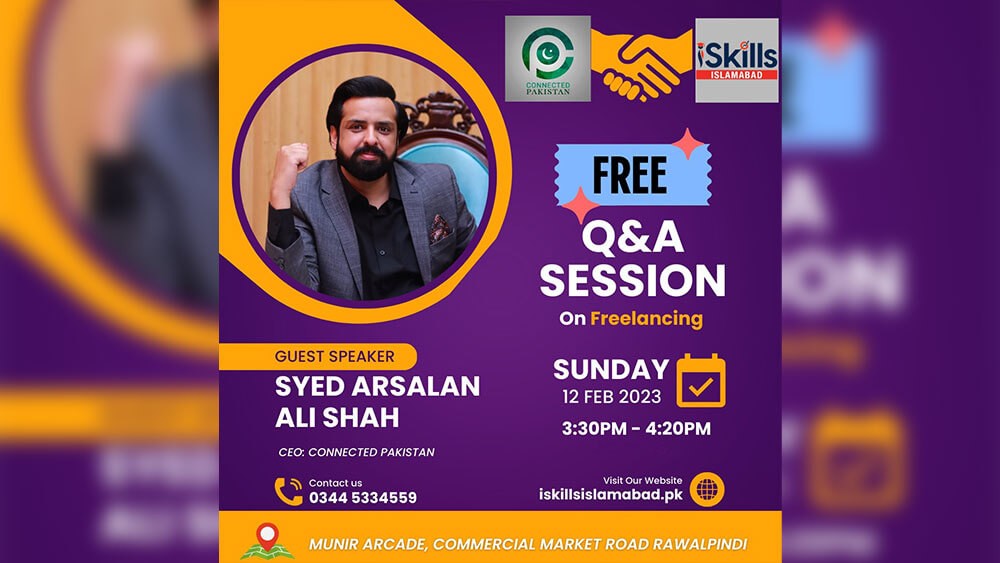 Connected Pakistan and iSkills Islamabad Collaborate for a Session on Freelancing
Connected Pakistan, a prominent tech organization, has partnered with iSkills Islamabad to present an exclusive opportunity for freelancers and aspiring entrepreneurs. This collaborative initiative aims to provide valuable insights into the world of freelancing and its potential to lead to entrepreneurship. The highlight of the event will be a talk by Syed Arsalan Ali Shah, Founder & CEO of Connected Pakistan, followed by an interactive Q&A session where participants can have their freelancing queries addressed. This blog post will delve into the details of this exciting collaboration and shed light on the benefits it offers to freelancers and aspiring entrepreneurs.
Unlocking the Power of Freelancing:
Freelancing has emerged as a popular career choice, offering flexibility, independence, and the potential for financial success. The partnership between Connected Pakistan and iSkills Islamabad aims to equip participants with the necessary knowledge and insights to excel in the freelancing industry. Attendees will gain a comprehensive understanding of the freelance marketplace, learn about effective strategies for attracting clients, and discover valuable tips for building a successful freelancing career.
From Freelancing to Entrepreneurship:
Freelancing provides a solid foundation for individuals to venture into entrepreneurship. Syed Arsalan Ali Shah, an industry expert and the CEO of Connected Pakistan, will deliver an engaging talk on how freelancing can serve as a stepping stone towards entrepreneurial success. He will share his personal experiences, discuss the challenges and opportunities involved in this transition, and offer practical guidance on leveraging freelancing skills to build a thriving business. Participants will gain valuable insights on scaling their freelance work, expanding their services, and establishing their own entrepreneurial ventures.
Interactive Q&A Session:
The Q&A session is a unique opportunity for participants to directly engage with Syed Arsalan Ali Shah and seek answers to their specific freelancing queries. Whether it's about pricing strategies, client acquisition, portfolio development, or overcoming common challenges, attendees will have the chance to receive expert advice and gain clarity on their freelancing journey. The interactive nature of the session fosters a supportive learning environment, enabling participants to gather insights and actionable tips from an experienced professional.
The collaboration between Connected Pakistan and iSkills Islamabad for the free session on freelancing presents a remarkable opportunity for freelancers and aspiring entrepreneurs to enhance their skills, gain industry knowledge, and receive expert guidance. With Syed Arsalan Ali Shah's insightful talk on freelancing leading to entrepreneurship and the interactive Q&A session, participants will be equipped with valuable insights and practical strategies to thrive in the freelancing industry and pursue their entrepreneurial aspirations.
Mark your calendars and join us for this invaluable event that can shape your freelancing career and empower you to take the leap into entrepreneurship. Stay tuned for further details and registration information on Connected Pakistan's and iSkills Islamabad's official websites. Don't miss out on this chance to connect with industry experts, expand your professional network, and unlock new possibilities for your freelancing journey.