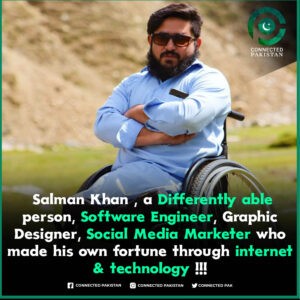 The technology & internet has enabled so many people and empowered them, Here is another story how internet & technology has empowered Salman Khan.
Engr. Salman Khan is software engineer(BS Computer Science Graduate), a Graphics Designer and a Social Media Marketer a differently-able person who made his own fortune through internet & technology.
His hard work, determination, and Never die attitude have led him to reach new heights. He's the Founder & CEO of SK Design Studio, digital marketing agency working with many Govt, Local and international organizations.
He is also Awarded as Fakher-e-Pakhtunkhwa by Govt of KP recently.
Salman khan is also a wheelchair basketball athlete & Captain of KP team. his team is National champion from the last 4 consecutive years(2018, 2019, 2020, 2021).
Inspirational Story of the year 2020 award by International Committee Of The RED CROSS.