This is the most inspirational story we have ever come across, Meet Asna Javed born without any arms and yet managed to done Masters in Computer Engineering and currently working in IBM Pakistan as Data and AI Brand technical Sales Specialist.
Let's hear from her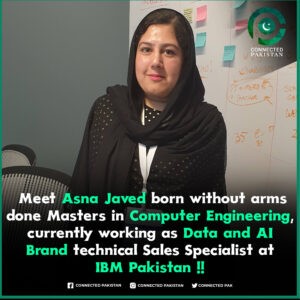 "Disability is just a hurdle that one can overcome with dedication and hard work." – Asna Javed
My name is Asna Javed, and I am Differently-abled. I was born without both my arms but that is not my achievement. Despite of being different I have done master's in computer engineering, and I am currently working as Data and AI Brand technical Sales Specialist at IBM in Pakistan.
Sales in IT sector is in general a male leading territory. I am not just the only female technical seller but also youngest in my team at IBM Pakistan. Now that is an achievement, I am proud of.
I have been with IBM for five years now and have Previously worked as IBM Hybrid Cloud Build Team Leader and Developer Advocacy Leader. My area of expertise includes Cloud Native application development and deployment, API integration and management, AI, BI, Customer Care solutions and DevSecOps.
As a developer advocate, I have worked with local developer communities, universities, and Incubation centers. I have Conducted multiple online and in person workshops and organized conferences and events for students and young developers
I received "Pride of Pakistan 2022" recognition by government of Pakistan for my work in IT industry. This year I was the only person from IT sector who received Pride of Pakistan recognition.
I am an active speaker of diversity & Inclusion. I believe in Women empowerment, and I encourage young females to join tech industry.
I got Khadija Tul Kubra Leadership award for Women with disabilities. (It is a prestigious National award arranged by STEP Pakistan in collaboration with UN Women, United Nations Population Fund (UNFPA) and Pakistan Women's Parliamentary Caucus.)
I also received fully funded TechWomen Scholarship in 2019. During this program I did my fellowship with LinkedIn HQ in California, USA for a month. Throughout this duration i was representing Pakistan and my team worked on a project, the aim of which was to address a social cause using technology. We won Seed Grant for our project by competing against teams of 20 other countries.
I am in the list of the top 20 spotlight "Most influential Pakistani Women on LinkedIn 2022"