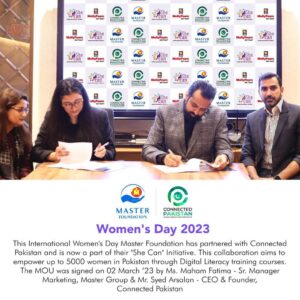 This International Women's Day, Master Foundation has partnered with Connected Pakistan and is now a part of their "She Can" Initiative. This collaboration aims to empower up to 5000 women in Pakistan through Digital Literacy training courses. Together, they will team up to motivate women to become financially independent and simultaneously contribute to the nation's economy.
Women make up half of Pakistan's population, but they make up less than one percent of the technology industry; hence, this program is essential for achieving gender parity in the technology sector. Master Foundation and Connected Pakistan intend to help women realize their full potential by equipping them with the knowledge and resources they need to participate fully in the digital economy and by offering them assistance in doing so. It will also contribute to expanding the technology industry throughout the nation.
The MOU was signed on 2nd March 2023 by Ms. Maham Fatima (Sr. Manager Brand Excellence & Strategy) and Mr. Syed Arsalan (CEO & Founder Connected Pakistan).