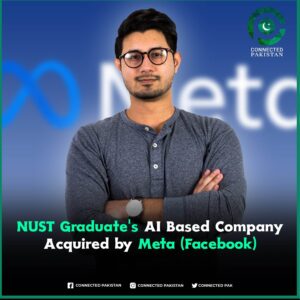 A young Pakistani was able to present his work though his company, Presize ai and now the AI company is acquired by Meta (formerly Facebook). He will be the project manager and will lead his company part in Meta (Facebook).
Awais Shafique is a young Pakistani Entrepreneur who did his bachelors degree from Pakistan and Master degree from Germany. With his brilliant ideas he managed to create an amazing Artificial Intelligence based company and now after the success of the startup, the company is acquired by Meta(facebook).
Presize.ai creates the most accurate body scanning software by fusing the most recent advancements in Computer Vision and Deep Learning. Presize.ai is a software for size recommendations for fashion and e-commerce users. It is an optimized a accurate body measurements that can be installed and used in a smartphone. Users of fashion e-commerce are advised on size selections to buy and keep. The most precise body measurements using our exclusive AI technology from a smartphone video or body form queries.
Presize enables online buyers to turn around once in front of their smartphone camera while wearing regular clothing (you can wear jeans and a t-shirt while doing it), and automatically get their best fitting apparel scale recommended.