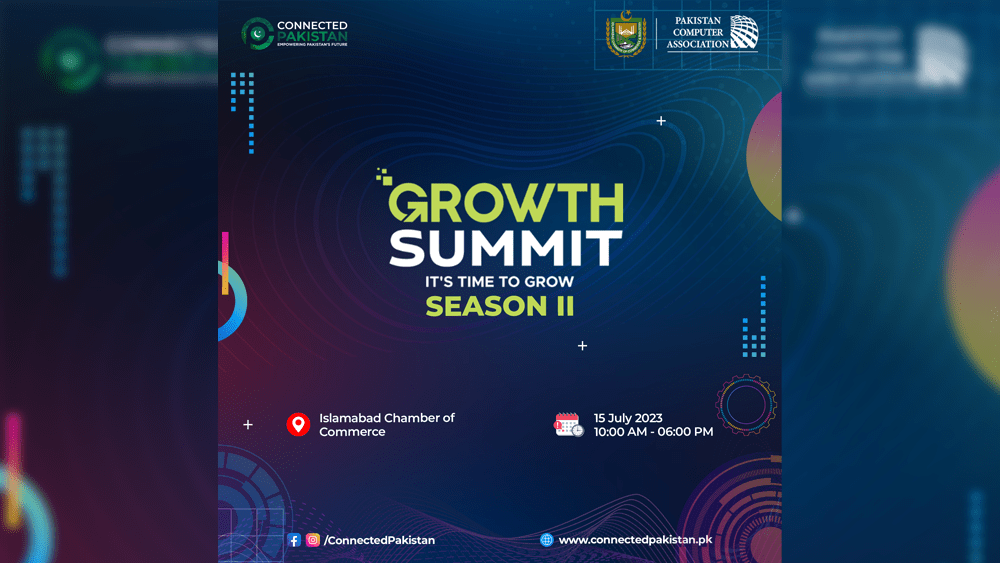 Accelerating Growth: Growth Summit'23 Season II Returns to Islamabad
After the tremendous success of the previous edition, Connected Pakistan is thrilled to announce the upcoming season of Growth Summit'23, set to take place on 15th July at the prestigious Islamabad Chamber of Commerce. The Growth Summit is a highly anticipated event that brings together industry leaders, entrepreneurs, and professionals to explore strategies for expansion, scaling, and accelerated growth in the rapidly evolving business landscape. With a focus on futuristic technologies and innovative approaches, the Growth Summit aims to empower attendees with valuable insights and actionable strategies to thrive in today's dynamic market.
Expanding Horizons:
The Growth Summit is an unparalleled platform for individuals and organizations seeking to expand their horizons and achieve remarkable growth. With a diverse range of speakers and sessions, the summit covers a wide array of topics, including emerging technologies, market trends, digital transformation, and disruptive strategies. Attendees can expect to gain valuable knowledge and industry insights that will help them navigate the ever-changing business landscape with confidence and stay ahead of the competition.
Scaling for Success:
Scaling a business is a crucial aspect of long-term success. At the Growth Summit, participants will learn effective scaling strategies from experienced industry experts who have successfully navigated the challenges of growth. From optimizing operations to streamlining processes and implementing scalable technologies, attendees will discover practical approaches to scale their businesses and unlock new opportunities for expansion.
Accelerating Growth:
In today's fast-paced business environment, acceleration is key to staying competitive. The Growth Summit provides a platform for participants to explore innovative ways to accelerate their growth trajectory. Industry thought leaders will share their experiences, best practices, and cutting-edge strategies to help businesses leverage technology, innovation, and market trends to rapidly propel their growth.
Futuristic Technologies:
Embracing futuristic technologies is essential for sustainable growth and staying ahead in the digital age. The Growth Summit will delve into emerging technologies such as artificial intelligence, blockchain, Internet of Things (IoT), and more. Attendees will gain insights into how these technologies can revolutionize industries, create new business models, and drive unprecedented growth opportunities.
As the date for Growth Summit'23 Season II draws near, excitement is building within the business community. This event is a prime opportunity for ambitious entrepreneurs, industry professionals, and aspiring business leaders to learn from industry experts, network with like-minded individuals, and discover strategies to propel their organizations to new heights. With a focus on expansion, scaling, growth, and futuristic technologies, the Growth Summit promises to be an enriching and transformative experience for all attendees. Don't miss out on this exceptional event that has the potential to unlock unprecedented growth and propel your business towards a prosperous future.
Register for FREE : https://bit.ly/growthsummit23